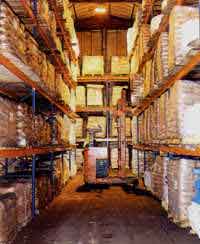 CAS Filtration maintains stocks of media at it's Immingham warehouse and larger orders can be supplied directly from the point of production, thus enabling very competitive rates to be offered. A transport service is available including vehicles with self-offloading facilities.

In addition to it's role as a supplier of filter media CAS Filtration carries out research into the properties and applications of the materials offered as well as developing new types of media. As a result of this research a filter medium for the treatment of highly alkaline process liquors and a material for heavy metals removal from potable and waste waters have been developed.
Customers are invited to consult CAS Filtration for advice on applications of filter media, assistance with the design of filter beds and media selection. Technical Data Sheets are available on all CAS Filtration products and these are updated in line with the company policy of continual improvement.